The KLF – 3AM Eternal – Single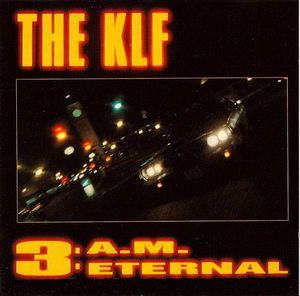 Pourquoi?
J'ai adoré cette fusion punk/electro, leur arrogance et leur décalage vis à vis de l'industrie du disque, qu'ils ont mine de rien bien manipulée.
Leurs apparitions sont souvent des happenings: aux Brit Awards 1992, ils tirent des balles à blanc sur le public et balancent un mouton mort à l'entrée de la salle avec un message cryptique collé dessus ("I died for ewe [bon appetite].").
Puis ils brûlent 1 million de livres sterling de leurs revenus de groupe, sur une île écossaise isolée.
Et 3am est tout simplement une tuerie.. Beaucoup aimé aussi leur album plus ambient: The White Room.
Tags
#provoc, #punk, #1million, #la classe, #budapest
Lyrics: Klf – 3 A.M. Eternal
This is Radio Freedom
KLF! aha aha aha aha
KLF! aha aha
KLF is gonna rock ya
(are you ready?)
(ancients of Mu Mu)
(here we go)
(ancients of Mu Mu)
KLF is gonna rock ya
(are you ready?)
(ancients of Mu Mu)
KLF KLF is gonna rock ya
(are you ready?)
(ancients of Mu Mu)
Eternal
(ancients of Mu Mu)
KLF!
(are you ready?)
aha aha aha aha
(ancients of Mu Mu)
Eternal
KLF is gonna rock ya 'cause you
have to
move to the flow of the P.D. blaster
bass ballistics
I'm gonna kick this hard
and you can catch it
down with the crew crew
talking 'bout the Mu Mu
Justified Ancient Liberation Zulu
Got to teach and everything you learn
will point to the fact that time is eternal
It's 3 A.M., 3 A.M., It's 3 A.M. eternal
KLF is gonna rock ya
(are you ready?)
(ancients of Mu Mu)
Eternal
(here we go)
(ancients of Mu Mu)
KLF!
(are you ready?)
aha aha aha aha
(ancients of Mu Mu)
Eternal
(here we go)
KLF! aha aha aha aha
Justified
Just roll it from the top
KLF
c'mon
aha aha
Justified
Eternal
Sample city through Trancentral
basic face kick elemental
swings brings new technology
the 'K' the 'L' the 'F' and the ology
Da Force coming down with mayhem
looking at my watch time 3 A.M.
got to see that everywhere I turn
will point to the fact that time is eternal
It's 3 A.M., 3 A.M., It's 3 A.M. eternal
(are you ready?)
(ancients of Mu Mu)
(here we go)
(ancients of Mu Mu)
(are you ready?)
(ancients of Mu Mu)
Eternal
(are you ready?)
(ancients of Mu Mu)
(here we go)
(ancients of Mu Mu)
(are you ready?)
(ancients of Mu Mu)
KLF! aha aha aha aha
KLF! aha aha
KLF is gonna rock ya
(are you ready?)
aha aha aha aha
(ancients of Mu Mu)
(here we go)
(ancients of Mu Mu)
KLF is gonna rock ya
(are you ready?)
aha aha aha aha
(ancients of Mu Mu)
KLF KLF is gonna rock ya
(are you ready?)
aha aha aha aha
(ancients of Mu Mu)
Eternal
(here we go)
(ancients of Mu Mu)
(here we go)
KLF! aha aha aha aha
(are you ready?)
Eternal
(here we go)
(are you ready?)
(ancients of Mu Mu)
(here we go)
(here we go)
Eternal
(ancients of Mu Mu)
(are you ready?)
(are you ready?)
(ancients of Mu Mu)
(here we go)
(ancients of Mu Mu)
KLF is gonna rock ya
(are you ready?)
aha aha aha aha
(ancients of Mu Mu)
KLF KLF is gonna rock ya
(are you ready?)
aha aha aha aha
(ancients of Mu Mu)
Eternal
(here we go)
(ancients of Mu Mu)
KLF!(are you ready?)
aha aha aha aha
(ancients of Mu Mu)
Eternal
(here we go)
aha aha aha aha
(ancients of Mu Mu)
(here we go)
(here we go)
Eternal
(ancients of Mu Mu)
(are you ready?)
(are you ready?)
Got to see that everywhere I turn
will point to the fact that time is eternal
(ancients of Mu Mu)
(here we go)
Eternal
KLF!
Ladies and Gentlemen; The KLF have now left the building
(Visited 293 times, 1 visits today)